10 Best MovieBox Pro Alternatives | Watch the latest movies and web series – 2023
In the world of digital entertainment, movie streaming applications have taken center stage, providing a convenient and accessible means to watch the latest movies and TV shows. One such contender in this field is MovieBox Pro, a platform boasting an extensive content library. However, like any popular app, there are certain aspects that users should be aware of before delving in. Let's delve into it in detail.
What is MovieBox Pro?
MovieBox Pro is a streaming application that provides users with access to a diverse selection of movies and TV shows, all without the need for a subscription fee. It is available on various platforms, including Android, iOS, Windows, and smart TVs, offering a plethora of movies and TV shows, primarily in English. Although the database does include some titles in other languages, they are relatively limited in number.
One of the standout features of MovieBox Pro is its ability to offer high-quality content to users completely free of charge. Moreover, the app offers two video player options, VLC and IJK, allowing users to choose their preferred default player.
Is MovieBox Pro Safe?
Safety is a crucial aspect to consider when using any app. MovieBox Pro raises valid concerns about user data collection, which can potentially compromise privacy. To reduce these risks, users are strongly advised to exercise caution and utilize a Virtual Private Network (VPN) when accessing MovieBox Pro.
Is MovieBox Pro Legal?
No, MovieBox Pro is not a legal application. It falls under the category of illegal streaming services. The app violates copyright laws by streaming licensed content without the required permissions or licenses. It is advisable to exercise caution when using such platforms.
How do I get an invitation code for MovieBox Pro?
To get an invitation code for MovieBox Pro, Follow the steps mentioned below:
Download and install the MovieBox Pro APK file from its official website: moviesboxpro.info.
An activation key/invitation code will be necessary for using the app.
Request the code by emailing sup[email protected] with "Invitation Code Request."
Wait for the invitation code to be sent to your email.
Click on the activation link provided in the email and log in to MovieBox Pro via your Google Account.
Enjoy the content using the invitation code you've received.
It's essential to note that each account is eligible for only one MovieBox Pro invitation code.
How To Download & Install Moviebox Pro APK On Android?
To download MovieBox Pro on Android:
Open a web browser on your Android device.
Search for MovieBox Pro and access its official website.
Download the APK file to your device.
Go to your device's Settings and enable the "Unknown Sources" option in the Security settings.
Open the downloaded APK file to initiate the installation.
Launch the MovieBox Pro app and sign in with your account using your Gmail and password.
Begin enjoying the vast selection of content for free.
Does MovieBox Pro give you viruses?
Worries about viruses and malware are common when using third-party apps. It's advisable to take preventive measures, such as using a reliable VPN and installing reputable antivirus software on your device, to address concerns about viruses and malware. This approach helps protect both your device and personal information while using MovieBox Pro.
10 Best MovieBox Pro Alternatives
Prmovies is a website that serves as an best alternative to MovieBox, but it's important to note that it's a piracy website. It provides a wide variety of HD movies and web series in various genres and languages, including Bollywood, Hollywood, South Indian, Punjabi, Telugu, Tamil, and Pakistani films and web series. Users can easily stream and download their preferred content from this website without incurring any charges. However, it's essential to be aware of the legal and ethical implications associated with using such websites.
The platform is regularly updated with the latest movies and shows. Unlike many other free streaming sites, it is completely ad-free. Users can access the content without the need for registration. Overall, Prmovies offers a wide and diverse library to its users.
Website: https://prmovies.expert/
Vumoo is a comprehensive online streaming platform that offers a variety of movies, TV shows, and animated films, including content suitable for children. It serves as a central hub for both local and global video content, featuring popular anime and foreign films from countries like Korea, China, and Japan. In addition to entertainment, Vumoo provides access to educational documentaries and thrilling sports events, allowing users to stream or download their desired videos without any worries.
Website: https://vumoo.world/
✅ MyFlixer 
MyFlixer provides an online portal that offers a user-friendly and easily accessible way to stream and download movies and TV series for free. The platform features a vast selection of films, including both Hollywood and Bollywood productions, spanning various genres. MyFlixer also offers a dedicated application for added convenience, allowing users to access its extensive collection seamlessly. Furthermore, the platform ensures high-definition quality for the available movies.
Website: https://myflixerz.to/
WatchSeries is a best moviebox pro alternative, it is free streaming platform that allows users to watch movies and TV shows online, although its legality is questionable. Its appeal lies in its cost-free access to HD content.
Accessible through mobile or desktop browsers, the site shares verified links instead of hosting content directly, placing it in a legal gray area. Despite this, it offers a user-friendly interface for convenient navigation. The platform provides a wide range of high-quality media content through these verified links, catering to diverse preferences.
Website: https://watchseries.id/home
✅ AnimeHeaven 
AnimeHeaven is an excellent online destination for anime enthusiasts. The platform provides a wide range of anime content and serves as an alternative to MovieBox Pro, offering free streaming and downloads. However, users may encounter occasional disruptions from video ads, pop-ups, and banners.
AnimeHeaven regularly updates its library with new anime shows and movies, including dubbed content. It's important to mention that due to its unauthorized nature, accessing content on AnimeHeaven may require the use of a proxy or VPN for some users.
Website: https://animeheaven.me/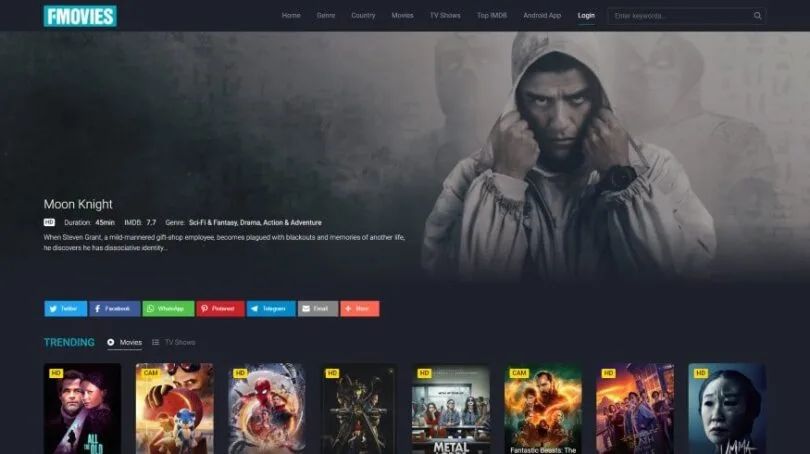 Fmovies is a platform that allows you to stream the latest movies for free, both online and offline. It offers a convenient alternative to subscription-based streaming services like Netflix, providing high-quality content without requiring an account or subscription fee. The user-friendly interface includes a download option for offline viewing. Fmovies offers free movie downloads in various resolutions and file sizes, and the quality of its content is impressive.
Website: https://fmoviesfree.ac/fmovie1/
✅ MxPlayer 
MxPlayer, a highly recommended and widely popular platform, offers a wide range of free movies and shows. You can easily watch movies online or download them for offline viewing through its dedicated app, available on your device's Play Store. The platform also includes regional content and features a user-friendly interface, providing access to a diverse selection of films.
Website: https://www.mxplayer.in/
✅ 1337x 
This website provides a significant alternative to paid streaming platforms, allowing users to freely download movies and shows. It offers multiple download links for a single film and regularly updates its content, ensuring access to recent releases. The platform boasts an extensive collection of movies, including both Hollywood and Bollywood, catering to both old and new films. However, it's worth noting that if the website is unavailable, it may have been taken down due to its unauthorized operations.
Website: https://www.13377x.tw/
Soap2day is a well-known website that offers a wide variety of free movie downloads across different genres. It features movies from both Hollywood and Bollywood, available in multiple formats. This platform allows users to enjoy high-quality movies without any cost. It prides itself on its user-friendly interface, which makes it easy for users to navigate through the available films and quickly find their preferred content.
Website: https://ww10.soap2day.day/b52/
✅ MoviesFlix 
With MoviesFlix, there's no need to make purchases or subscribe to premium services like Netflix or Amazon Prime. You can access all the content without any subscription. When you visit the website's homepage, you'll find a wide range of offerings, including English web series, series with dual audio, Bollywood releases, and Korean movies and web series. All of these are available for free.
Both movies and web series are viewable in high definition. One of the most advantageous features of the website is its consistent content update schedule, ensuring fresh content regularly.
Website: https://themoviesflix.de.com/
Conclusion:
In a world dominated by streaming platforms for entertainment, MovieBox Pro offers an attractive option for accessing movies and TV shows without a subscription fee. However, it's important to note that the safety and legality of this website could be improved.
Still, if you decide to proceed with MovieBox Pro, prioritize your privacy by employing a VPN and other security measures. Alternatively, exploring legitimate and licensed streaming services such as SonyLiv, Netflix, Voot, and Disney+ will provide a seamless and risk-free entertainment experience.
These services offer a vast selection of content and provide a legitimate and secure way to enjoy your favorite movies and TV shows. It is essential to make informed decisions.